Expedited Permit Process Report - Revision 2
Download the one-page Summary (PDF, 260KB) or the full report (PDF, 4.6MB) , or the fill-in forms. Also, view our map of solar reference points.
To use the fill-in form, save the document to your computer first. Then you can save the information you add to the form.
Overview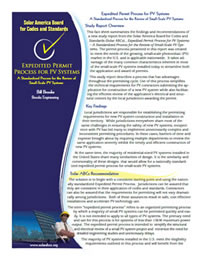 This report presents an Expedited Permit Process for PV Systems. The permit process in this report was created to meet the needs of the growing, small-scale photovoltaic (PV) market in the U.S. and is applicable nationwide. It takes advantage of the many common characteristics inherent in most of the small-scale PV systems installed today to streamline both the application and award of permits.
The term "expedited permit process" refers to an organized permitting process by which a majority of small PV systems can be permitted quickly and easily. It is not intended to apply to all types of PV systems. The primary need and use for this process is for systems of less than 15kW maximum power output. The expedited permit process is intended to simplify the structural and electrical review of a small PV system project and minimize the need for detailed engineering studies and unnecessary delays.
Key Findings
Local jurisdictions are responsible for establishing the permitting requirements for new PV system construction and installation in their territory. While jurisdictions everywhere share most of the same challenges in ensuring the safety of new PV systems, inexperience with PV has led many to implement unnecessarily complex and inconsistent permitting procedures. In these cases, barriers of time and expense brought about by requiring multiple departments to review the same application severely inhibit the timely and efficient construction of new PV systems.
At the same time, the majority of residential-sized PV systems installed in the United States share many similarities of design. It is the similarity and commonality of these designs that allows for a nationally standardized expedited permit process for small-scale PV systems.
Solar America Board for Codes and Standards Recommendation
Solar ABCs recommends that this process be used by local jurisdictions to permit small PV systems.